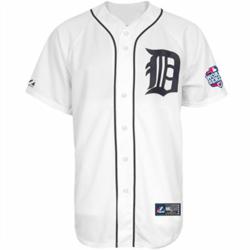 San Francisco, CA (PRWEB) November 03, 2012
Cheap-Neckties, one of the largest discount tie retailers, just published their list of the Five most stylish 2012 MLB jerseys. Five teams are highlighted, each of which is thought to be home to two of the best jerseys in the league. The pin stripes of the NY Yankees were recognized for its timelessness, while the SF Giants impressed with their bold orange and black accent colors.
We love baseball, and with the world series title won right here in our own backyard, it makes perfect sense that wed want to highlight MLB fashion and style, says fashion critic the the writer Hendrik Pohl. Its easy for people to overlook just how stylish some of the jerseys in the MLB actually are, as a lot of people dont think fashion and style matter in the sport. This being said, jerseys can help to convey confidence as much as home town pride. We wanted to highlight five teams that pull this off better than any other clubs in the league.
Each of the five teams highlighted is given its own piece in a series of five articles, with each article highlighting the given teams home and away jersey. The Oakland Athletics are highlighted for their usage of deep forest green in their jerseys, for example, while the Yankees trademark pinstripes are also focused upon. Each article ends with information about how modern men can incorporate elements of these jerseys into their own looks.
Modern men shouldnt hesitate to take a close look at these jerseys and think about how they might be able to incorporate elements of them into their own style, says Pohl. After all, theres a lot of contrast being played with in the MLB; more than most people realize. This being one of the most effective tools that fashion-forward individuals can use to improve their ensembles, it makes plenty of sense why one might wish to analyze MLB fashion and style.
Cheap-Neckties has published numerous articles relating to mens fashion and style. While this is the first time the site has covered MLB jersey style, the style of MLB players off the field has been analyzed in the past.
A lot of our readers are sports fanatics, which is one of the main reasons that weve put such a strong emphasis on covering sports in the past, and will likely continue to do so in the future, says Pohl. These are not only some of the best athletes in the world, but theyre also some of the best-dressed men this country has to offer.
To see the entire list of stylish baseball jerseys, please see here:

http://www.cheap-neckties.com/blog/wrapper.php?/archives/600-5-Most-Stylish-Baseball-Uniforms-Best-Looking-Baseball-Jerseys-2012.html
Related Baseball Uniforms Press Releases
Leave a Reply